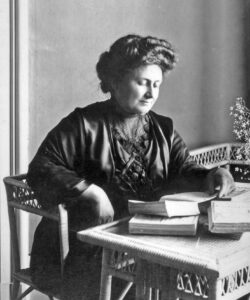 When we think of March, we may think of the start of spring, long awaited warmer temperatures, and maybe even the color green. Another important occasion that occurs during the month of March is the recognition of Women's History Month.
Women have always played important and significant roles in the world of education, from Helen Kellers's teacher, Annie Sullivan, to current First Lady, Dr. Jill Biden. No list of influential female educators would be complete without the inclusion of Dr. Maria Montessori.
Maria Montessori was born on August 31, 1870, in Chiaravalle, Italy. From the start, Montessori had big ambitions, somewhat outside of the traditional female roles in late 1800s Italy.
She began her groundbreaking path by attending Regio Instituto Tecnico Leonardo da Vinci, an Italian technical school, from 1886-1890. Montessori entered the technical school with the aim of becoming engineer. After graduation, Montessori was encouraged to go into the field of teaching, one of the few opportunities available for females at the time. Montessori had other plans and, instead, went on to attend medical school.
It was no easy feat for a woman to gain entrance into such a program during this era. Medical school was reserved for the male population, and even Montessori's own father was opposed to the idea of his daughter in such a position. Montessori, initially, failed in her attempts at entering medical school. It is said that she ended one unsuccessful admittance interview by saying "I know I shall become a doctor.".
Montessori eventually made it into medical school, becoming one of the first women in Italy to infringe upon the male-dominated medical landscape. In 1896, the same year in which Montessori obtaining her medical degree, she was asked to represent her home country of Italy at the International Congress for Women's Rights in Berlin, Germany. She advocated for women's rights and equal pay for women.
Once she began her medical career in earnest, Montessori found special interest in working with mentally ill children. Her early work with these children molded Montessori's philosophies about education, teaching methods, and the way that children best learn. Montessori found that her methods were not only successful with mentally ill children, but all children, in general. These findings led her to establish her first school, "Casa dei Bambini", translated as "Children's House", in Rome in the year 1907. Shortly thereafter, in 1909, she delivered her first training courses over the Montessori Method. It did not take long for word of Montessori's successful approach to education to spread, leading Montessori to travel around the world lecturing on her child-centered approach and establishing schools.
Throughout her career, Montessori was faced with many challenges. Not only did she overcome the hardships that accompanied breaking through one of the first glass ceilings, but she also endured much adversity throughout World War II. During this period, she saw all her life's work destroyed by the Fascist Political Party. She went on to escape and spent the remainder of the war training teachers in India. Part of her work included advocating for children and sharing her ideas about world peace. It was Montessori's belief that, if children could get what they needed developmentally, we would be closer to achieving world peace. These efforts and ideas led to three Nobel Peace Prize nominations for Montessori.
Maria Montessori died in 1952 at the age of 82. Her legacy continues to thrive in countless schools and organizations across the globe. It is estimated that there are approximately 20,000 Montessori Schools in the world, with 5,000 in the United States alone. Montessori has had an immeasurable impact, not only in the realms of education and women's rights, but on the entire world.